On this tip you will learn how to insert the variable username on an Alteryx workflow. This formula can be useful to create a access log on a workflow used by more than on user at different times, as it can be seen bellow.
Fórmula 1: GetEnvironmentVariable("USERNAME")
Returns the environment variable specified in Name. To get a list of environment variables, go to Control Panel > System > Advanced System Settings > Environment Variables. A list of system variables appears. Any value from this can be used.'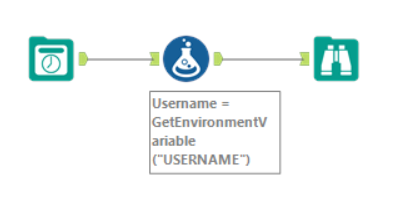 Dica 2: ReadRegistryString('HKEY_CURRENT_USER\Volatile Environment', 'USERNAME')
ReadRegistryString(Key, ValueName, DefaultValue="): Returns a value from the registry. This function exists because the previous formula wasn't always around.